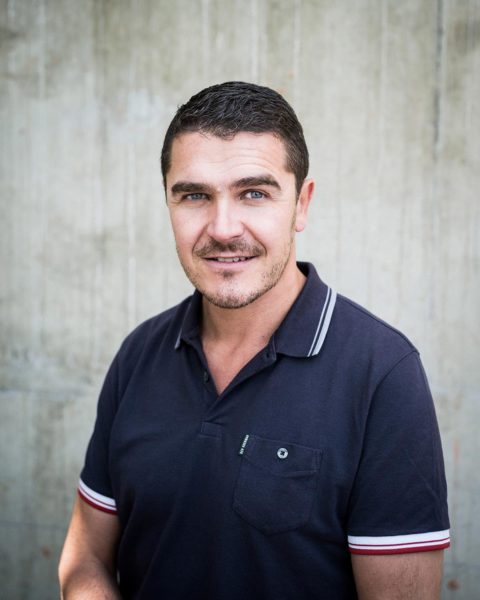 Stage director (born in 1973 in Bordeaux, France)
In January 2011, Arnaud Meunier became the Director of the Comédie de Saint-Étienne – a National Center for Dramatic Art – and of its Advanced School of Dramatic Art. There, he developed a new project in which creation and transmission of knowledge are intrinsically linked. The dialogue between different aesthetics and generations, the renewing of theatrical styles, the discovery of new authors, the daily presence of artists, the will to open and share Theatre with the largest and most varied of populations, are the key themes of the project he is currently implementing. After gaining a degree in political science, he began training to become an actor and, in 1997, founded the Compagnie de la Mauvaise Graine. This gained rapid acclaim from the press and professionals at the 1998 Avignon festival, and his company was then offered a permanent residency at the Blanc-Mesnil Forum in Seine-Saint-Denis gaining the support of Théâtre Gérard Philipe (directed by Stanislas Nordey).
The company then goes on to develop its creative work on contemporary authors and will subsequently be a resident at the Maison de la Culture of Amiens, associated with the Comédie de Reims and the Théâtre de Saint-Quentin-en-Yvelines. Faithful to his commitment to living authors, Arnaud Meunier perpetuates a companionship with the authors he most cherishes ; producing plays by Pier Paolo Pasolini, Michel Vinaver, Oriza Hirata and Eddy Pallaro. In parallel, he also works in Opera as a stage director or associated director. Fluent in three languages (French, German and English), he has, over the past ten years, worked in Japan, the Netherlands, Germany, Algeria, Italy, Austria, England, Qatar, Norway and Morocco.
Theatre

2019

Candide by Voltaire
Creation at the Comédie de Saint-Étienne

J'ai pris mon père sur mes épaules by Fabrice Melquiot
Creation at the Comédie de Saint-Étienne

2018

Fore ! de Aleshea Harris
Creation at the Comédie de Saint-Étienne

66 pulsations par minutes de Pauline Sales
Exit show of the students of promotion 28 of The School of La Comédie de Saint-Étienne
Création a the Festival Ado #9 | Le Préau – CDN de Normandie – Vire

2017

Je crois en un seul dieu by Stefano Massini
Creation at the Comédie de Saint-Étienne

2016

Truckstop de Lot Vekemans
Creation at the Festival d'Avignon 2016

2015

Le retour au désert by Bernard-Marie Koltès
Creation at the Comédie de Saint-Étienne

2014

L'Émission de télévision by Michel Vinaver / Shangai Theatre Academy (Chine)

Femme non rééducable by Stefano Massini
Creation at the Théâtre de la Commune à Aubervilliers followed by a tour


2013

Chapitres de la chute by Stefano Massini
Creation at the Comédie de Saint-Étienne followed by a tour


2011

11 septembre 2001 by Michel Vinaver
Show pre-premièred at the Comédie de Saint-Étienne – NCDA – and created at the Théâtre de la Ville – Paris

Le Problème by François Bégaudeau
Creation at the Théâtre du Nord in Lille
Coproduction Théâtre du Rond Point and Théâtre de Marigny

2009

Tori no tobu takasa
Japanese adaptation by Oriza Hirata of Par-dessus bord by Michel Vinaver
Creation at the Kyoto Arts Center (Japan)
Tour in 2010 at the Théâtre de la Ville in Paris

2008

King by Michel Vinaver
Creation at the Théâtre de Saint Quentin en Yvelines
Reprise at the Théâtre de la Commune – NCDA – in Aubervilliers

2007

En quête de bonheur
Poetical and philosophical oratorio
Creation at the Comédie de Reims followed by a tour
Reprise at the Maison de la poésie – Paris 2008

2006

Gens de Séoul by Oriza Hirata
Creation at the Théâtre National de Chaillot followed by a tour

La Demande d'emploi by Michel Vinaver
Creation at the Théâtre de Saint Quentin en Yvelines
Reprise at the Théâtre de la Commune – NCDA in Aubervilliers

Avec les armes de la poésie
based on poems by Pier Paolo Pasolini, Nâzim Hikmet and Yannis Ritsos. Maison de la Poésie – Paris

From 2001 to 2005

He also staged several plays by Pier Paolo Pasolini(Pylade and Affabulazione), by Eddy Pallaro (Cent Vingt-trois and Hany Ramzy), La vie est un rêve by Pedro Calderón de la Barca, El Ajouad (Les Généreux) by Abdelkader Alloula

Opera

2014

Ali Baba
Charles Lecocq – Albert Vanloo et William Busnach – direction Jean-Pierre Haeck

2012 

L'Enfant et les Sortilèges
Maurice Ravel – Colette, Direction : Didier Puntos
Creation at Festival d'Art lyrique of Aix-en-Provence
Photo Arnaud Meunier : Jean-Louis Fernandez